The project
The onset of the financial crisis in Greece, in recent years, has spawned a fruitful dialogue at national and regional level - based on studies, public forums and consultations - that has highlighted the importance of the broader tourism sector industries as a key pillar of national economic growth.
Project progress
Opening meeting in Eleusis.
Website Creation
User needs and specifications.
User needs and specifications.
Software architecture design.
Eleusis ecomuseum design.
Latest Articles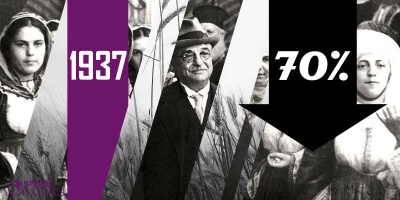 "The roots of the nation lie in the fields […], for the present generation of Greeks […] it is necessary […] to thicken the nation's rural roots […] and to intensify to the utmost limit the exploitation of agricultural resources". Thus spoke the Minister of Agriculture of the Metaxas government in January 1937.
At the beginning of January 1973, the Greek press proudly announced the signing of an Hellenic-American home porting arrangement for a task force of the United States Sixth Fleet.
In the early 20th century, Eleusis was at the forefront of industrial development. The abundant (and inexpensive) land, the opening of the Corinth Canal, the Piraeus-Athens-Peloponnese railway line and the port of Eleusis had transformed the city into an ideal location for the founding of new industries.
The stories of Eleusis in your inbox!
Subscribe to our newsletter and read them before anyone else.
We'll never share your email with anyone else.